THE LOVE BUG DVD EXPERIENCE!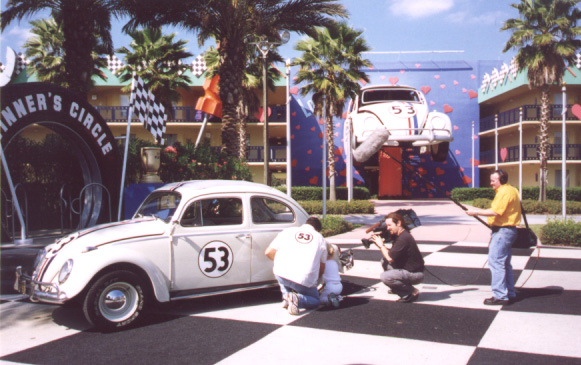 In February 2002 my family was invited to be a part of Disney history. I was contacted by a production company that was working on the upcoming special edition DVD for the original LOVE BUG film. Not only was I excited to hear the news about the DVD but I was nearly knocked out when I was asked to be a part of it! The Disney folks had done some surfing on the web and found my web site. They wanted a fan's perspective on the DVD. I pitched them some ideas and they loved them! The plan was to film the Herbie hanging in Planet Hollywood, and to film my Herbie on Disney property at the ALL STAR MOVIES resort.
When we arrived at the resort I was ushered into a Love Bug building hotel room for an interview. The room was transformed into a makeshift set complete with a few pieces of my Herbie memorabilia. The interview pretty much focused on my involvement with Herbie and how I became a fan. I wish I could have added some behind the scenes info and other interesting tid bits but I think a lot of that will be on the DVD through other sources. In addition to the inside interview the crew filmed a short outside interview covering some of the same topics as well. After the interview they filmed my daughter putting the hubcaps back on Herbie. My daughter was dressed in her Herbie Halloween costume and home made racing suit. Next on the agenda was a ton of Herbie close-up shots. I was instructed to "polish" Herbie while they filmed. Once those shots were completed we moved out to the parking lot for some action shots of Herb. I did a few drive by runs for the camera and then the camera man hopped inside for some on the road shots. Talk about fun, fun, fun! The last piece of filming was reserved for a quick look at some LOVE BUG memorabilia. I wonder how much of this will make the final cut?
One last thing! I can't leave off the surprise thrown in on this day. See, I had invited Herbie owners Gail and Stephen Love to attend the shoot as well. The trick is that I never told them that the shoot was an official Disney project! It's hard to describe the look on Gail's face when I finally broke the news shortly before filming. Let's just say he was really surprised. The Disney crew filmed an interview with Gail showing off his son Stephen's amazing PC powered Herbie (Click here to see Stephen's web site).
I can honestly say that this was a magical day. For years I have dreamed of being involved with a Herbie project and that dream came true.
Now, the only thing left to do is to have Disney consult with the fans for the next Herbie film. Will it happen? We can only pray!
Thanks for reading!
Dave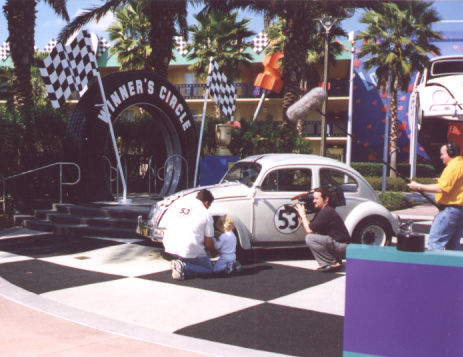 Yet another Daddy-daughter scene.
Wax On. Wax Off.
Oh what acting! They wanted me to make it
seem as though I was doing some detailing! This was the part of
the shoot where they did a lot of close-ups! I hope my five year old (in 2002)
restoration holds up well on film!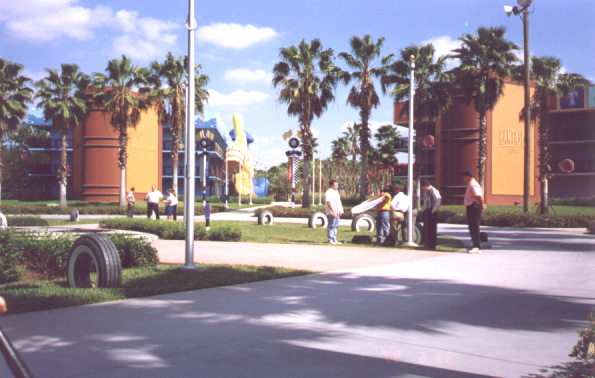 After the lengthy interview inside one of the hotel rooms we moved outside
for some color. Several of the same questions were asked. It will be interesting
to see just what does and doesn't make the final cut!
UPDATE: Well, the DVD is out. My interview (along with Gail Love's) was trimmed down considerably. Still, it sure was a lot of fun to do!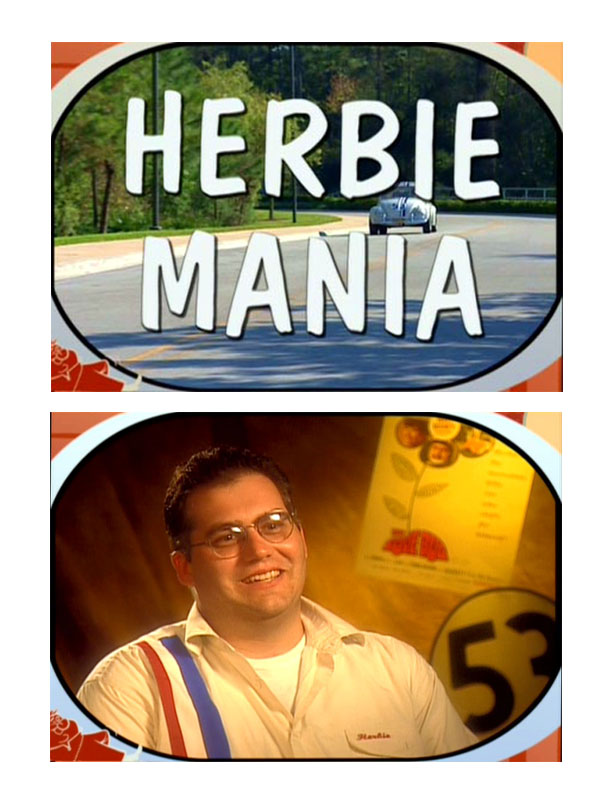 Funny how things work out. Back in 2000 I coined the term "Herbie Mania" in my History of Herbie article. Disney adopted it for the LOVE BUG DVD using it as the title for the fan section . When it was time to come up with an official domain name for this website Herbiemania seemed only natural!